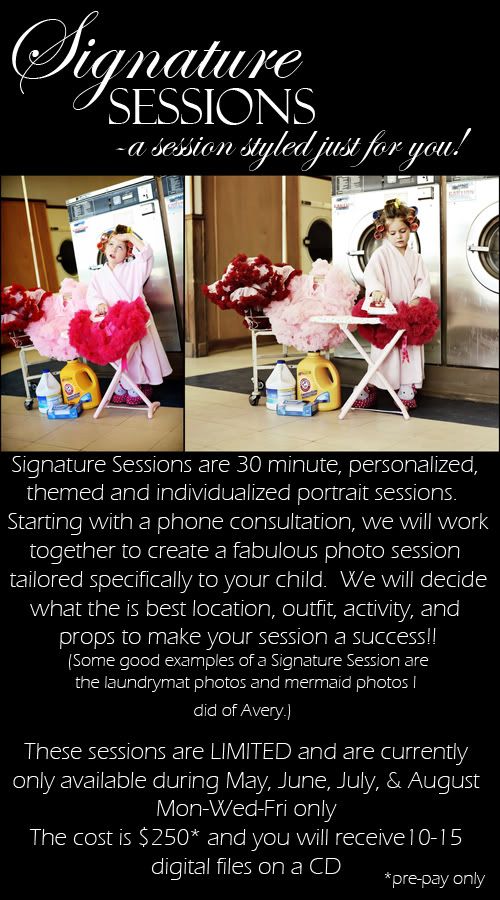 Some more info--these are kinda like mini sessions--only better! You get more of my time and a more customized photo shoot. Think about capturing photos of your child doing what they love to do, being themselves or dressing up, having fun...The possibilities are endless...we can shoot at a fire station...a school...a sports park...***AND KEEP IN MIND Y'ALL--WE CAN SHOOT ALL THE WAY UP TIL AND A LITTLE AFTER 8PM...***

And THIS is how you sell it to your toddler/child...tell him/her that you are going to take them to do something super fun...just for them...full of good times and maybe some goodies to eat! Then...CASUALLY mention that Miss Brandi is coming to take pictures while they PLAY...we will get our shots...they will get their play on... all is happy and serene ;-) Y'all ALWAYS ask me how I get my shots of Avery Grace--this is the formula!!

To get in on these limited-time sessions, please pre-pay for your session by hitting the "Buy Now" button (you may use credit, debit or checking acct with Paypal and it is a secure site). Please be sure to include your contact info in the message to seller portion. I will call you within 1-3 business days of purchase and we will begin the process of coming up with a fun, different and UNIQUE photo session for your child-**not for use for newborn sessions and no family shots-but that WILL be offered later**

See below for a few more examples of the cool things we can do!