This is a blog post put up by my great friend, Noelle, of glamRbaby fame.
Please take a moment and check it out--this is for a very good cause--what better reason to spend a little hard earned $$$ than to get a fabulous bow AND help out a beautiful little girl at the same time??!!
FROM glamRbaby's BLOG:

I am SO excited to be doing this for a dear blogger friend, Crystal with You and Me Plus Three. Her sweet baby girl, Bentley is having Open Heart Surgery on May 20th. I have been following Crystal's blog for quite some time now and I wanted to do something for them. I first met Crystal about 2 years ago. She was doing website/myspace design and I had her make my myspace. We lost touch for a while but have reconnected and I'm SO grateful. She is SO sweet and has such a beautiful family.


I wanted to do something nice for their family and for Miss Bentley. She was born with this heart condition and this MAY be one of several open heart surgeries but hopefully by the grace of God she will only have to go through this once. Their insurance apparently doesn't cover all of the surgery nor does it cover her VERY expensive formula or some Dr. visits/appointments. Apparently the FORMULA alone is CRAZY expensive and her Pediatrician has fought for the insurance to cover but they refuse.


SO...I have created 3 BENTLEY bows! HALF of ALL the proceeds for all 3 Bentley Bows will go back to Miss Bentley and her family to cover the costs of all their medical expenses. I know its NOT a lot but I felt like glam R baby needed to do their part in helping!! To PURCHASE the BOWS...please contact me at glamrbaby@yahoo.com, www.myspace.com/glamrbaby or http://www.glamrbaby.com/ (give me until Monday evening to get them on the website!)


Today..we are REVEALING the 3 BENTLEY Bows...Crystal worked very closely with me to pick out colors and patterns and we also wanted them to match their FAMILY blog!! I think we have accomplished that and I'm so excited to announce them! PLEASE buy one FOR you, your friends, your family and TELL ALL YOUR FRIENDS about it!! Please feel free to REPOST on your OWN blog and lets get the WORD out....Buy a BENTLEY BOW!!!

All of the photography is done by my AMAZING friend and photographer B4 Photography. Please check out her work...she does a fabulous job. She is the DFW area but travels all around Texas for an extra charge. She also participates in several charity organizations around the DFW area. She is a phenomenal person and has a great eye!! Can't say enough nice things about my girl!! Check out her BLOG and WEBSITE!!

ALL 3 BOWS are available on a headband, a french clip or an alligator clip. They are also available for purchase as piggie bows. If you purchase them as piggie bows there is a price break. Thanks again...hope you LOVE the BOWS!!


The 1st Bentley Bow is the SMALLEST of all 3. This adorable Chocolate Zebra Bow has 2 layers with a swavorski crystal in the middle. Simple and sweet and perfect for piggies or on a headband for a newborn.



- Sm. Bentley on Headband: $16
-Sm. Bentley on french/alligator: $10
-Sm. Bentley Piggies: $18








The 2nd Bentley Bow is the Medium size. I LOVE this BOW! It is SO me! It is a large brown bow with the chocolate zebra layered on top with light pink marabou fluff in the middle. SO CHIC and ADORABLE!!


-Med. Bentley Bow on headband: $22
-Med. Bentley Bow on french/alligator: $15
-Med. Bentley Bow Piggies: $25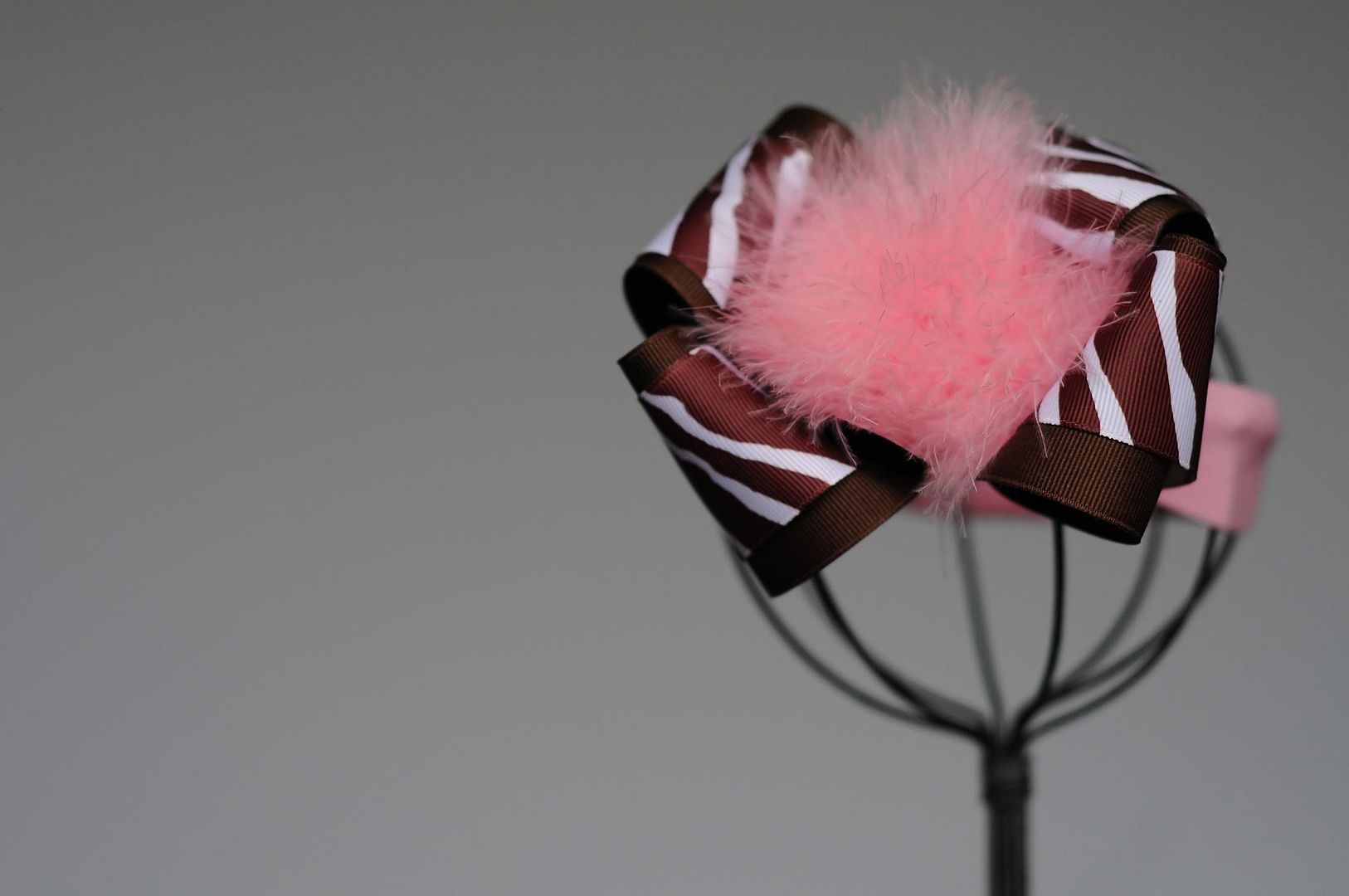 OK...LAST but NOT least!! This BIG Bentley Bow is NOT for the meek. This BOW speaks volumes and I GUARANTEE if your baby or little girl wears this she will get TONS of attention! This bow WILL stop traffic. It is a BIG bow and one of glam R baby's speciality's! Over the TOP and SO sassy! This bow has LAYERS and LAYERS of coordinating ribbon! It contains the chocolate zebra, leopard print, brown/pink dots and it has a light pink shabby chic rose in the middle! FABULOUS!!!

BIG Bentley Bow on Headband: $34
Big Bentley Bow on French/Alligator: $25




Again.....please feel free to post this on your blog and LETS get the orders in for Miss Bentley!! Also please pray for The Welsh Family...they will be enduring alot in about a week. Pray for a successful surgery for Miss Bentley and a quick recovery. I KNOW she will do great!! :o)

Thanks so much guys....have a great week and lets get the word out on the Bentley Bows!!
And because I think it is wrong for me to just post this and NOT do something to help as well, I have decided that I will be donating 10% of all session fees in the month of June to help this family. Judging by what my calendar looks like, (and hopefully avoiding more weeks of rain filled days) that should be a helpful amount! So, if you haven't already booked your summer session with B4 Photography, June would be a great month to do so!